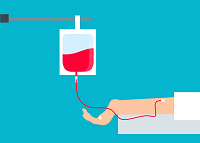 September 28, 2022. 9am – 6pm
Local 68 Training Center
14 Fairfield Place
West Caldwell NJ 07006
To set up your appointment, Pick a donation type.  
"Blood" is a typical donation.
A "Power Red" donation is a procedure where they extract the platelets from your blood and give back your plasma.  It takes a longer than the standard donation, and is limited to certain blood types, but can be easier to tolerate for those who tend to get woozy.
You will be asked to create a Red Cross account on their website.  Please do so if you don't already have one.  If you do have a Red Cross login, please use it.
You may choose to install the Red Cross Blood Donor App on the App Store, Google Play or text BLOODAPP to 90999. Schedule appointments, view your blood type and results of your mini-physical, and track your donations.
Site: Local 68 Operating Engineers
Address: 14 Fairfield Place, Caldwell, NJ, 07006
Room Name: Classroom #4
Date: Wed Sep 28, 2022
Time: 09:00 AM – 06:00 PM